Imsouane Beach combines wild scenery with powerful waves. Imsouane was long a secret location due to the mountains that framed the beach. Forbes magazine published a list of the top 27 beaches in the world in 2017. On the Forbes list, Imsouane Beach came in at number 10. Imsouane was referred to as a surfers' paradise in the American magazine. The area is known as the Magic Bay by the locals.
When should visit Imsouane Beach? Climate, weather, and surf season
The optimum time to visit Imsouane and the greatest time to surf there must be distinguished from one another. The climate is significantly more pleasant and milder throughout the entire year. And for this reason, European travelers favor Morocco as a travel destination. The coldest month in Imsouane is January. But with a typical temperature of 14 C/57 F! Summers may be too warm. However, it is tolerable thanks to the wind and clean air of the Atlantic Ocean. In locations like Marrakech, the heat quickly causes you to pass out. Summer may not be the ideal time to visit Imsouane if you want to go surfing. Typically, the surf season in Imsouane lasts from October to June. The surf season runs from November to March. You can be sure that at this time, there will be practically daily large waves and persistent swells.
Nevertheless, surfers congregate during peak season. In the dead of winter, there are about 2000 individuals present at once. And this, both on land and in the water, is too much for a little hamlet. It might be ideal in September. With only a few visitors, the village will be peaceful. You can nearly always go surfing, thanks to the waves. Additionally, there will be no problem with how many people are in the water.
How Can I Travel To Imsouane?
Essaouira and Imsouane are 95 kilometers apart. To go from Essaouira to Imsouane, allow 1 hour and 30 minutes. Essaouira and Imsouane can be reached in three different ways. A cab ride is quick and easy, yet more expensive. Where and when you choose to take the cab will affect the cost. For your trip to Morocco, renting a car is a common activity. Many visitors view it as the best way to experience the nation. You can also pick up your automobile at the airport. Essaouira to Imsouane shuttle buses run once daily.
Surfing Guide for The Imsouane Beach
Imsouane is home to Africa's longest wave. The waves range in height from 600 to 800 meters in a good season. Just try to surf for more than three minutes! Are you an amateur or an expert? Do you wish to develop your longboard surfing skills? You can find paradise at Imsouane, especially in the area known as The Bay.
The Magic-bay
Due to its uniqueness, this location has long been kept a secret. Another name for it is Magic Bay. Beginners will do well at The Bay. Most surf schools and camps visit there. Long waves that are simple to catch can carry you up to 700 meters. A dream is The Bay. This place is ideal for moving forward. But take caution! There may be some very large waves during peak season. So catch waves at your skill level.
At The Reef Spot
Beginners and intermediate surfers who want to practice short boarding more can go here. The waves are smaller and break more quickly. The Reef can fill in for The Bay when it's not functional. The reef spot's ideal tide is a rising high tide. On a good day, the Reef can reach Cathedral Point. So don't be concerned—there is room for everyone!
The Cathedral Point at Imsouane Beach
To take on the Cathedral location, you must acquire the necessary experience. The Cathedral may be a viable site for beginners when the surge is not too strong. In the spring and summer, beginners and intermediates can attempt this location. Nevertheless, observing the locals chowing down at Cathedral Point is impressive.
Surfboard rental shops at Imsouane Beach
You'll see that Imsouane village center has many surf stores. There is a large selection of shorts and longboards in every store. After some haggling, you can rent wetsuits and boards for about 70 MAD per person daily. Less than 7 euros are spent each day for each person. You're free to surf as often as you like. You can return and swap out the boards as much as necessary from sunrise to sunset.
Where to stay at Imsouane Beach?
Morocco's Imsouane beach is a well-known surfing location. However, the village still lacks hotels. Instead, many hotels, guesthouses, apartments, and villas have become available for rent. And there are options for various price ranges.
Resorts and Hotels at Imsouane Beach
Perfect for those who desire to connect with others. Hostels in Imsouane have a strong sense of family about them. Insignificant as a luxury hostel. However, the surf and atmosphere are fantastic! Apartments, guesthouses, and double rooms. There are better options than dorm rooms in hostels for couples traveling together. Apartments are now a superior option. Request a room with a view of the water. So, even from your bed, you can hear the waves. Families and couples should choose villas as a wonderful alternative. If you want to have a wonderful time and money to spare, renting a villa is smart. Imsouane has a large number of villas that, for the price they charge, provide good service.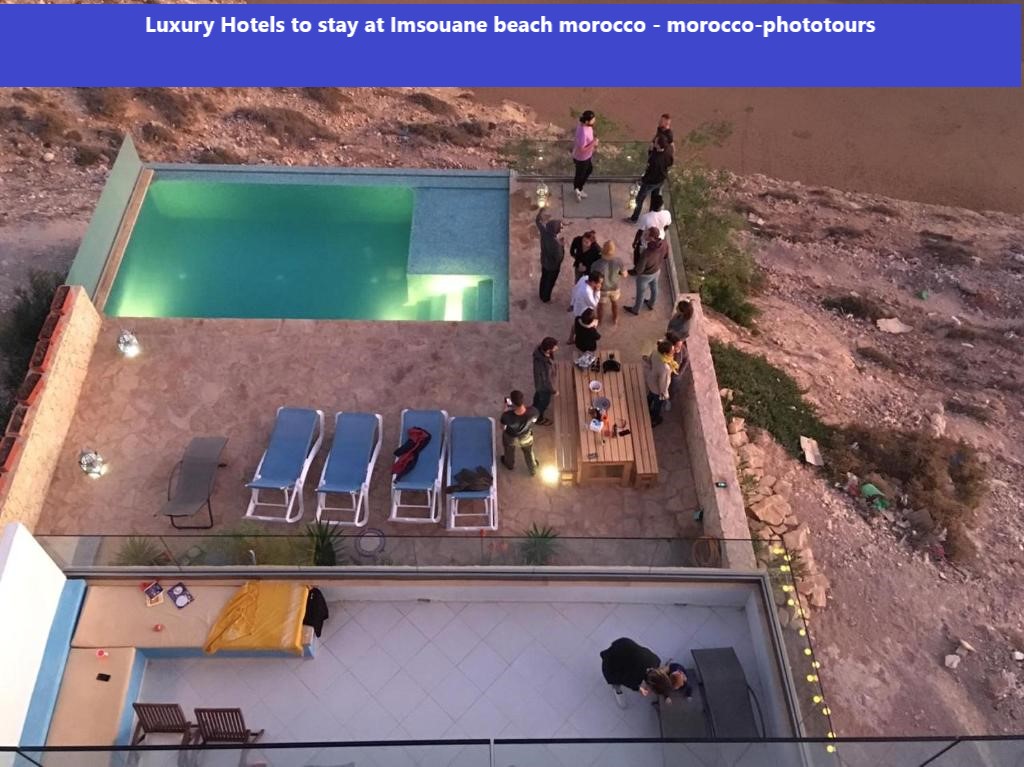 Restaurants for Food at Imsouane Beach
Eating is a wonderful delight after a successful surf session. Breakfast is offered in a lot of the village's cafes and eateries. You can get bread with jam, butter, and honey for around 30 MAD (3 dollars) per person. An omelet or pancake with sugar is another option. You can also get fresh orange juice plus coffee or tea as a beverage. Enough to replenish after a successful session. Tacos or pizza are available for 30-35 MAD (3.5 dollars). Restaurants that serve vegetarian tagines for two people for 60 MAD (30 each) are also open. Cooking for yourself is preferable if your home has a kitchen. Everything is available in the village's modest stores.
Conclusion
In addition to swimming and surfing, you can go to an Argan cooperative. You will observe and learn about the production of argan-based goods, such as soaps and oils. You can go 20 minutes to "the Source" in Imsouane for the sunset. That location offers an amazing view of the sunset. Allow yourself to enjoy a thrilling camel ride. Camels and horses can be ridden at numerous clubs in the community.